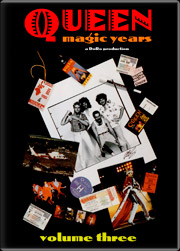 VIDEO:

PRO-SHOT VIDEO NTSC 4:3

AUDIO:

LPCM Stereo

SUBT:

Español

DATE:

1987
CROWNED IN GLORY
Queen's appearance at Live Aid kicks off this portrait of the group's massive 1986 European tour. Following the tour trail from two sell-out shows at Wembley Stadium, via their first gig behind the Iron Curtain (at Budapest's Nepstadium). to its triumphal conclusion in front of 120,000 fans at Knebworth, an intimate picture emerges of life on the road. Footage of Queen preparing, playing, partying and unwinding is peppered with the individual band members' revealing views of touring life, the comments of their most committed fans and anecdotes from the roadies, security men and promoters that made it all possible. The cream of the pop world queue up to pass judgment on the group which Bob Geldof describes as "one of the biggest live bands on the face of the planet".
Directed by Rudi Dolezal and Hannes Rossacher.
Commentary written by Simon Witter, spoken by Stuart St. Paul.
LASER DISC VERSION