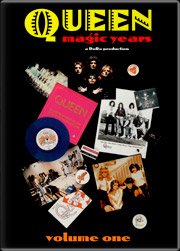 VIDEO:

PRO-SHOT VIDEO NTSC 4:3

AUDIO:

LPCM Stereo

SUBT:

Español

DATE:

1987
THE FOUNDATIONS
From their formation in 1971 at London s Imperial College to the sensational presentation of their Best Single of the Last 25 Years award for Bohemian Rhapsody , Queen s early days are depicted with unseen archive footage, gripping video montages and the humorous reminiscences of their peers, predecessors and now famous fans. From Jackie Stewart to Paul McCartney, they ve all got a tale to tell. Early black and white Queen interviews are intercut with footage of their first Rainbow concert, first TV airplay, first Top of the Pops appearance ( Killer Queen ) and video tapings of their early hits Keep Yourself Alive and Liar which have never been seen before. Queen s visual interpretation of Bohemian Rhapsody is uncontestedly acknowledged as the first important music video and this volume contains a comprehensive overview of the videos that have firmly placed Queen in the vanguard of the genre they kickstarted back in 75. Volume 1 closes with a candid portrait of Queen at work in the studio which, condensed from the only session filming ever permitted during the band s studio career, unflinchingly depicts the techniques and tensions involved in the recording of one of their biggest hits.
Directed by Rudi Dolezal and Hannes Rossacher.
Commentary written by Simon Witter, spoken by Stuart St. Paul.
LASER DISC VERSION