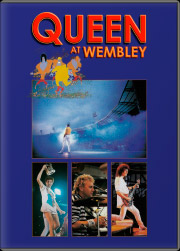 VIDEO:

PRO-SHOT 4:3
PAL or NTSC

AUDIO:

Dolby Digital 2.0

Dolby Surround 5.1

SUBT.:

Spanish (optional)

DATE:

12/07/1986
CONCERT
Brighton Rock
One Vision
Tie Your Mother Down
In The Lap Of The Gods
Seven Seas Of Rhye
A Kind Of Magic
Yeah, Yeah, Yeah!
Under Pressure
Another One Bites The Dust
Who Wants To Live Forever
I Want To Break Free
Is This The World We Created?
Tutti Frutti
Bohemian Rhapsody
Hammer To Fall
Crazy Little Thing Called Love
Radio Ga Ga
We Will Rock You
Friends Will Be Friends
We Are The Champions
God Save The Queen
Bonus:
TV Report
Pre-Concert & Soundcheck
Laser Disc Version, digitally remastered
and surround 5.1
Original edition issue in 1990, different camera shots and sound mix from "Real Magic"video editing in 1986.