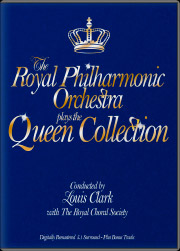 VIDEO:

PRO-SHOT VIDEO PAL 4:3

AUDIO:

LPCM Stereo

Dolby Surround 5.1

DATE:

1981
Thanks Mariam Akhundova!
Intro
God Save The Queen
Flash
You're My Best Friend
Don't Stop me Now
Love Of My Life
Another One Bites The Dust
Imagine (John Lennon Song)
Teo Torriatte (Let Us Cling Together)
Crazy Little Thing Called Love
Bohemian Rhapsody
Flash (Reprise with all musicians)
Bicycle Race
Titles
Bonus:
Killer Queen
Somebody To Love
Play The Game
Under Pressure
We Will Rock You
We Are The Champions
Played by The Royal Philharmonic
Orchestra, Conducted by Louis Clark
with The Royal Choral Society.
Recorded live at the Royal Albert Hall
8th December 1981, at a Royal Gala
Concert presented by The Solid Rock Foundation in aid at the Leukaemia
Research Fund.
Digitally remastered with audio restored
in stereo and surround 5.1.