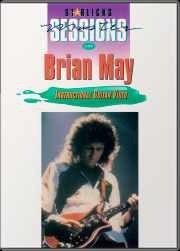 VIDEO:

PRO-SHOT VIDEO NTSC 4:3

AUDIO:

LPCM Stereo

DATE:

1984
Video Info:
-Little intro solo.
-Brian introduce himself and start to give an idea of the equipment.
-Good explanation of the pickups way to work, all this playing a little piece which is a modification of the "It's Late" guitar intro.
-Trebble Booster explanation.
-Pick and Boss Chorus pedal.
-Delays, playing Brighton Rock Solo (part of)
-Tune

Lick 1 "Liar" solo (4:09-4:17)
Lick 2 "Modern Times Rock'n'Roll" solo (1:13-1:21)
Lick 3 "Jesus" solo-scale (3:07-3:13)
Lick 4 "Father To Son"
Lick 5 "March Of The Black Queen" (1:37-1:47)
Lick 6 "March Of The Black Queen" (5:06-5:16)
Lick 7 "Brighton Rock" (1:53-1:57)
Lick 8 "Bohemian Rhapsody" 1st solo
Lick 9 "Tie Your Mother Down" solo, before slide (2:59-3:12)
Lick 10 "Sombody To Love" solo (1:59-2:21)
Lick 11 "It's Late" (3:37-3:48)
Lick 12 "Dead On Time" (1:47-1:58) The complete solo but in two separate parts
Lick 13 "Dead On Time" (1:58-2:02)
Lick 14 "Dragon Attack" (2:11-:)
Lick 15 "Put Out The Fire" (:-2:19)
Lick 16 "It's A Hard Life", not exactly, Brian shows what he would have liked to play in the original record (3:07-3:11)
Lick 17 "Star Fleet" The scales going up, explain the two guitar, Eddie Van Halen's and his. (3:56-4:03)
Lick 18 "Love Of My Life" Played with the Red Special, very interesting. Like in the original record Brian doesn't play the same as he does live, and this version is the live one. Here the time is from the "Live At Wembley '86" version.(0:45-1:41)
Lick 19 "Keep Yourself Alive" All Intro. (0:08-0:33)
Lick 20 "Crazy Little Thing Called Love" All solo, but without the Telecaster (1:19-1:34)
Again an expanation of the delays, playing the slow part of Brighton Rock Solo.
Bonus:
Back To The Light US Commercial
Star Licks Master Sessions Trailer
Thanks Fabian Palermo!