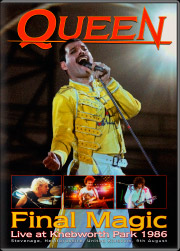 VIDEO:

AUDIENCE-SHOT VIDEO NTSC 4:3

AUDIO:

Dolby Digital 2.0

Dolby Surround 5.1

DATE:

9/08/1986

COMPLETE CONCERT

Concert:
Intro
One Vision
Tie Your Mother Down
In The Lap Of The Gods


Seven Seas Of Rhye
Tear It Up
A Kind Of Magic
Yeah, Yeah, Yeah
Under Pressure
Another One Bites The Dust
Who Wants To Live Forever
I Want To Break Free
Impromptu
Guitar Solo
Now I'm Here
Love Of My Life
Is This The World We Created?
(You're So Square) Baby I Don't Care
Hello Mary Lou
Tutti Frutti
Bohemian Rhapsody
Hammer To Fall
Crazy Little Thing Called Love (full version)
Radio Ga Ga
We Will Rock You
Friends Will Be Friends
We Are The Champions
God Save The Queen
Bonus:
Knebworth Documentary
Master Tape version. Video restored and audio restored from the bootleg CD of Knebworth Park with excellent quality.