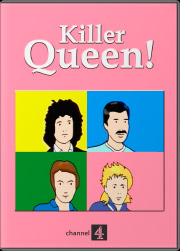 VIDEO:

PRO-SHOT VIDEO PAL 4:3

AUDIO:

Dolby Digital 2.0
Video Info:
Channel 4's 2002 TV documentary on the
world's greatest rock band Queen. An often
tongue in cheek look at the band's career
(and pre career) including….. 'Queen on video',
'Stadium Queen', 'Queen at play',
'Queen in love', 'West End Queen' and much more.
New interviews with Brian May and Roger
Taylor and many unseen archive clips of Queen.
Contributions from Ben Elton, Status Quo,
Brian Blessed, Mick Rock, Zandra Rhodes and
many more

Produced and Directed by Nick Cory-Wright
Narrated by Arabella Weir ..