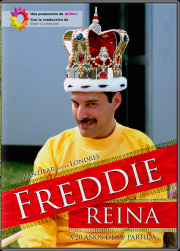 VIDEO:

PRO-SHOT VIDEO PAL 4:3/16:9

AUDIO:

LPCM Stereo

SUBT:

Español

DATE:

2011
On Thursday November 24, 2011 is commemorated 20 years of the death of Freddie Mercury, Queen's voice, the British rock band was a classic of the 70 and 80 and marked whole generations. Bebe Contepomi visited the place where Freddie was born and where he died. From Zanzibar, an African island that was a British protectorate (today part of Tanzania), to London.

CHAPTER 1 The first chapter has its origins in a location that knows nothing about Freddie. Very few know who was Freddie Mercury, much less, who was born there with the Muslim name Farrokh Bulsara.

CHAPTER 2 In this second part, London, the city that Freddie came as a teenager and where would conquer the world with Queen, the band that formed in the early 70's. Also, and especially, a review of his music.

CHAPTER 3 Just hours after communicating for the first time he had AIDS, Freddie Mercury died at his home in London. It had been four years since we received the first diagnosis, but he had ordered to keep secret. During those four years he fought against the disease, but continued writing and recording, although no longer playing live shows.
BONUS: The experience of making ''Freddie Reina"
Two versions: "TELENOCHE" (full screen) 48 min.
"LA VIOLA" (widescreen) 50 min.