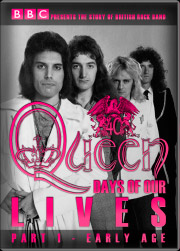 VIDEO:

PRO-SHOT 16:9

PAL or NTSC

AUDIO:

LPCM Stereo

SUBT.:

English (CC)

Español

DATE:

29/5/2011
In 1971, four university students got together to form a band. Since then, that certain band called Queen have released 26 albums and sold over 300 million records worldwide.
The popularity of Freddie Mercury, Brian May, Roger Taylor and John Deacon is stronger than ever. Their story is a remarkable one, a narrative that covers early struggles, huge obstacles, success, arguments, breakups, triumph, tragedy and an enduring legacy - all against a backdrop of brilliant music and stunning live performances from every corner of the globe.
In this film, for the first time, it is the band that tells their story.Guiding us through an extensive archive full of hitherto unseen footage, the documentary reveals how four strong-minded individuals, all capable of writing massive hit songs, worked together so successfully for four decades. Queen never did anything by halves - meaning their highs were massive, but their lows catastrophic.

It is a compelling story told with intelligence, wit, plenty of humour and painful honesty.
BBC Hi-Definition broadcast.
English & Spanish subtitles