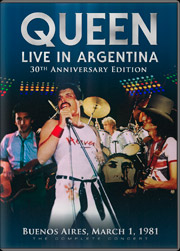 VIDEO

PRO-SHOT 4:3
PAL or NTSC

AUDIO

LPCM Stereo

Dolby Digital 2.0

SUBT.

Español

English

DATE:

01/03/1981




COMPLETE CONCERT

DISC ONE:
Juan A. Badía Introduction
Intro


We Will Rock You (Fast)


Let Me Entertain You
Play The Game
Somebody To Love


I'm In Love With My Car
Get Down, Make Love
Need Your Loving Tonight
Save Me
Now I'm Here
Yeah, Yeah, Yeah
Dragon Attack
Now I'm Here (reprise)
Fat Bottomed Girls
Brian Speech
Love Of My Life
Keep Yourself Alive
Instrumental Inferno
Flash's Theme
The Hero
DISC TWO:
Crazy Little Thing Called Love
Bohemian Rhapsody
Tie Your Mother Down
Audience demands an Encore
Another One Bites The Dust
Sheer Heart Attack


Audience demands a second Encore
We Will Rock You
We Are The Champions
God Save The Queen

BONUS:
Argentina Bites The Dust (Documentary)
Building The Stage
Full Press Conference (27-2-1981)
Original TV Introduction
Miguel Romano, Coiffeur of Freddie
Queen & Maradona
Picture Gallery
The Process of Restoration


Trailer 2011

AUDIO:
PCM.....................Concert
Dolby 5.1/2.0.......Extras
30th ANNIVERSARY EDITION
For the first time the historic concert in 1981 at Vélez Sarsfield Stadium,
Buenos Aires has been restored as you've never seen before!
Complete concert on 2-DVD set (106 minutes), includes intervals when the audience demands the encores, more than 53 minutes of extra material and for the first time this gig is presented without announcer's comments.