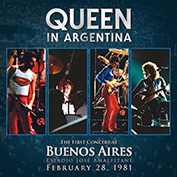 NEW 2017 EDITION



DISC ONE:
Intro
We Will Rock You (fast)
Let Me Entertain You
Play The Game

Mustapha
Death On Two Legs
Killer Queen
I'm In Love With My Car
Need Your Loving Tonight
Rock It (Prime Jive)
Save Me
Now I'm Here
Yeah, yeah, yeah!
Dragon Attack
DISC TWO:
Love Of My Life
Keep Yourself Alive

Instrumental Inferno
Flash's Theme
The Hero
Crazy Little Thing Called Love
Bohemian Rhapsody
Tie Your Mother Down
Another One Bites The Dust
Sheer Heart Attack
We Will Rock You
We Are The Champions
A new Cassette with a higher generation copy of the soundboard reel master emerged (thanks to Juan G.) containing the most complete recording in Stereo without fades and high-quality. Some fragments of the recording have degradation, but with a long work, all these parts were restored digitally with speed correction and other lost parts were replaced using another high-quality source tape as well (thanks to Alberto Barrios).
The biggest surprise was that it contained "Now I'm Here (reprise)", complete and in Stereo, as well as Brian's complete introduction of "Love Of My Life", "Dragon Attack", "We Are The Champions" and the intervals between songs without fade-out or cuts. (92 minutes)