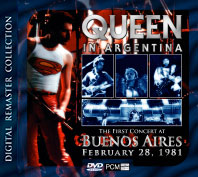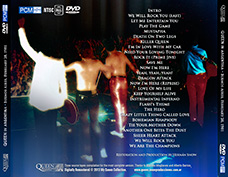 | | |
| --- | --- |
| FORMAT | DVD |
| VIDEO | NTSC 16:9 |
| AUDIO | LPCM 2.0 (96/24) |

Intro
We Will Rock You (fast)
Let Me Entertain You
Play The Game
Mustapha
Death On Two Legs
Killer Queen
I'm In Love With My Car
Need Your Loving Tonight
Rock It (Prime Jive)
Save Me
Now I'm Here

Yeah, yeah, yeah!
Dragon Attack
Now I'm Here (Reprise)
Love Of My Life
Keep Yourself Alive
Instrumental Inferno
Flash's Theme
The Hero
Crazy Little Thing Called Love
Bohemian Rhapsody
Tie Your Mother Down
Another One Bites The Dust
Sheer Heart Attack
We Will Rock You
We Are The Champions
Complete soundboard recording, digitally restored. To achieve the best quality a Cassette containing high quality recording was transferred in 96 kHz / 24-bit High Definition. To complete some parts lost, was used other two sources.
Includes full version of Dragon Attack, Now I'm Here reprise and We Are The Champions without fade-out. 92 minutes.
Thanks to Marcelo Moglianesi and Alberto Barrios.