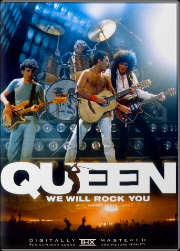 VIDEO:

PRO-SHOT NTSC 16:9

AUDIO:

Dolby Surround 5.1

LPCM Stereo

Dolby Digital 2.0

SUBT.:

English

EDIT.:

2001, USA
Video Info:

1. Intro
2. We Will Rock You
3. Let Me Entertain You
4. Play The Game
5. Somebody To Love
6. Killer Queen
7. I'm In Love With My Car
8. Get Down, Make Love
9. Save Me
10. Now I'm Here
11. Dragon Attack
12. Love Of My Life
13. Under Pressure
14. Keep Yourself Alive
15. Drum Solo
16. Guitar Solo
17. Crazy Little Thing Called Love
18. Jailhouse Rock
19. Bohemian Rhapsody
20. Tie Your Mother Down
21. Another One Bites The Dust
22. Sheer Heart Attack
23. We Will Rock You
24. We Are The Champions
25. God Save The Queen
26. Credits
Extras:
Audio Commentary of the director
Lyrics on screen
Queendom
Band Biography
Trivia Game
Discography
Photo Gallery
Versión THX, restaura en formato de pantalla ancha, con la alteración del montaje y la sincronización del audio y el vídeo.