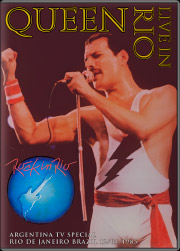 VIDEO:

PRO-SHOT VIDEO PAL 4:3

AUDIO:

LPCM Stereo

FECHA:

12/01/1985

ROCK IN RIO 12-01-1985
Intro
Yeah, Yeah, Yeah!
Somebody To Love
Love Of My Life
Crazy Little Thing Called Love
Radio Ga Ga
I Want To Break Free

Bonus:
Rock In Rio Blues (Video)
Brasilian TV
Freddie Complete Hotel Interview
Roger, Brian, John Airport Arrives
Roger Interview
Complete "Friday People" Report
Japanese MTV Report
Excelente calidad. Video de 25 minutos
emitido por Canal 13  de Argentina.
Incluye además material extra de Rio 85.