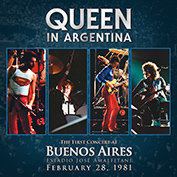 NUEVA EDICIÓN 2017



DISC ONE:
Intro
We Will Rock You (fast)
Let Me Entertain You
Play The Game

Mustapha
Death On Two Legs
Killer Queen
I'm In Love With My Car
Need Your Loving Tonight
Rock It (Prime Jive)
Save Me
Now I'm Here
Yeah, yeah, yeah!
Dragon Attack
DISC TWO:
Love Of My Life
Keep Yourself Alive

Instrumental Inferno
Flash's Theme
The Hero
Crazy Little Thing Called Love
Bohemian Rhapsody
Tie Your Mother Down
Another One Bites The Dust
Sheer Heart Attack
We Will Rock You
We Are The Champions
Un nuevo Cassette con una copia cercana a la cinta master salió a la luz (gracias a Juan G.) conteniendo la grabación más completa en estéreo, sin fade-out y con calidad de sonido superior. Algunos fragmentos de la grabación tienen degradación, pero con un largo trabajo, todas esas partes fueron restauradas digitalmente con corrección de velocidad y otras partes perdidas fueron reemplazadas usando otra cinta de alta calidad también (gracias a Alberto Barrios).
La sorpresa más grande fue que esta cinta contenía "Now I'm Here (reprise)", completa y en Stereo, así como la introducción completa de Brian de "Love Of My Life", "Dragon Attack", "We Are The Champions" y los intervalos entre canciones sin fade-out o cortes. (92 minutos)